On This 4th of July, The Old Man is sharing information and opinions about the value of Freedom  and the price of Independence.
The particular Freedom is the ability to have and support a "Battle Buddy".
Battle Buddy is a service dog trained to assist and support the Veteran when life after service becomes demanding and overpowering. A Battle Buddy is a constant and loving companion; always there, always ready, always trained to help.
It is the Freedom from the worry about facing alone the horrors of night terrors and anxiety attacks.
It is the Freedom from financial woes; whether to feed myself or feed my companion service dog. It is the Freedom from worry and stress if and when my buddy needs medical assistance.
It is the Independence of knowing that you have the funds and resources ready to take care of your battle Buddy.
This is not a hand out!  This is a hand up to those men and women who committed their lives to support Freedom and Independence!
And for those critics out there who say that this is another waste of funds to support another "crutch" for ailing Veterans; Stick it!
Wake up and learn! There is indisputable evidence from many sources that demonstrate the positive relations ship between the warrior and the companion.
Research  shows the dogs' usefulness. Early findings of a study by the Center for the Human-Animal Bond at Purdue University show service dogs reduce the severity of PTSD among veterans, including the frequency of night terrors and anxiety attacks.
For decades, veterans who survived the chaos and horror of our wars have returned home to unemployment, hostility and an inexcusable lack of services. As if those challenges weren't enough,, untold numbers are suffering from post-traumatic stress disorder.
And they're dying from it.
Researchers estimate 18-22 veterans kill themselves a day. That includes not only those who served in Iraq and Afghanistan but also veterans of Vietnam and other conflicts.
But yet again, we are failing our veterans.
At least 20% of Iraq and Afghanistan veterans have PTSD and/or Depression.

According to VA reports, 690,869 (378,993 PTSD) have been diagnosed for mental health disorders since 2001. And those are only the one's who have sought help.

Over 260,000 veterans from OIF (Operation Iraqi Freedom) and OEF (Operation Enduring Freedom) so far have been diagnosed with TBI, according to the BBC.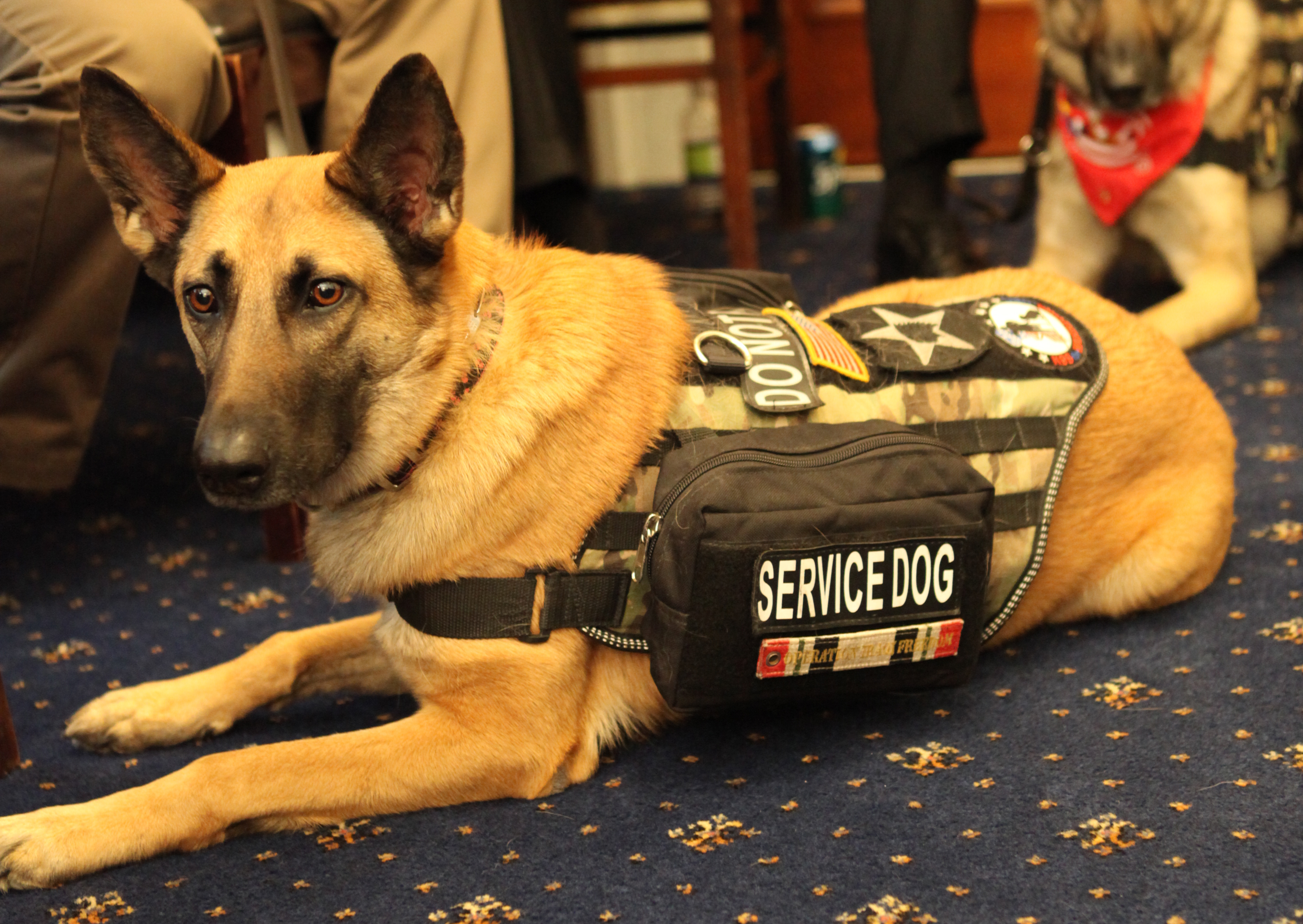 The Veterans Health Administration does not cover the costs of obtaining and training service dogs  to assist Veterans suffering from PTSD, making much needed help too costly for many.

In a 2010 budget bill, Congress directed the Department of Veterans Affairs to study the use of service dogs. The study was supposed to have been finished in 2014, but it was suspended when dogs the agency got from a contractor had behavior problems and bit two children.

Now the Department of Veterans Affairs is conducting a $12 million study . The agency redesigned the $12 million study, which is not expected to be finished until next year, Dr. Michael Fallon, the VA's chief veterinarian, told a House committee in April. A decision on covering costs of dogs for veterans with mental disorders won't be made until at least the following year.
A decision on covering the costs? It won't come until at least the following year?
That's 2018!, if the VA is on time, Yeah Right! – When the hell has the VA ever been "on time" ?
"Veterans cannot wait until 2018″.
That could be far too late for more than 14,000 veterans.
Republican Rep. Ron DeSantis of Florida, chairman of the House Committee on Oversight and Government Reform's nation security subcommittee, doesn't want to wait for 2018. DeSantis has introduced the Puppies Assisting Wounded Service Members Act, or the PAWS Act, which would create a $10 million project setting aside up to $27,000 per dog for vets diagnosed with severe PTSD. The House Veterans Affairs committee should hear the bill sometime soon.
There shouldn't be a single challenge to this bill. The costs are designed to come from the VA budget for things like convention planning and office decor. Going without hors' d'oeuvres or fancy throw pillows seems an easy sacrifice to make for a life-saving treatment for those who sacrificed so much for our freedom and security.
The project will "ensure our veterans have access to the potentially life-saving treatment of a service dog, as well as commissioning a study to evaluate the effectiveness of service dogs in treating post-traumatic stress," said Kate Rosario, a spokeswoman for Rep. Keith Rothfus, R-Pennsylvania, in an email. Rothfus is co-sponsoring the bill.
Rory Diamond, executive director of K9s for Warriors, a Florida nonprofit that provides 192 veterans a year with service dogs, said his group has helped veterans reduce medications, handle anxiety and face fewer night terrors or thoughts of suicide.
"Right now is the time to act — not after the VA gets its act together but right now," Diamond said.
The following story  portrays just how committed a Veteran is to his Battle Buddy.
Emmanuel Bernadin says he'd be dead without the service dog he calls Bronze.
Bernadin has had suicidal thoughts five or six times, once while still serving in Afghanistan, and the rest as he's tried to deal with what he went through there.
Bronze — as in Bronze medal — goes with the El Paso, Texas wherever he goes.  Bernadin said the French mastiff is so essential to his coping with feelings of guilt and anger, at times he's chosen to be homeless in order to afford its food.
Despite such anecdotal evidence — and research that shows how dogs help veterans cope with post-traumatic stress — the Veterans Health Administration does not cover the thousands of dollars it costs to get and train a service dog. Critics blame the agency's bureaucracy and a bungled study.

As a result, help is not affordable to many, despite government estimates that 22 veterans kill themselves every day and research that connects thoughts of suicide with the post-traumatic stress suffered by nearly a third of veterans who've served since Sept. 11, 2001.
The VA now helps pay for some service dogs, but only those used by veterans with vision and defined physical problems.
"Veterans cannot wait until 2018. The problem of veteran suicides is too urgent," DeSantis, a lieutenant commander in the U.S. Naval Reserve, said during the April hearing."
Now it is up to you and I. We have an obligation to support the PAWS Act.
Reach out to your family and friends and tell them about this important legislation. You and everyone you know, reach out and call your Congressman and let them know how important it is to support and move this bill into law.
Happy 4th of July!
  Happy Independence Day.
Let your actions bring Independence to our Brothers and Sisters who will live a long healthy life with their Battle Buddy!
Source: No pause on PAWS: Get veterans service dogs now | Opinion | batesvilleheraldtribune.com